On the road with Sunsetters
A Day In The Life Of a Scout
Sunday, July 22
by Brian Freeman and Wayne Reitz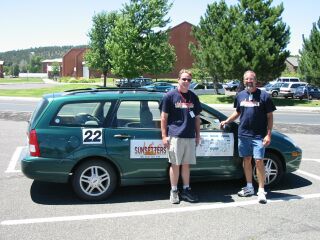 The scouts job is a lonely one, riding the range with very little contact to the main caravan. The scouts main job is to drive ahead of the solar car caravan to determine if there are any hard turns to find or if there are any large obstructions on the race route. There are also a few secondary jobs. Since we drive much faster then the solar car caravan it is also our duty to scout out places to spend the night and good places to set up the array for charging. An equally important job is buying the food for the evening meal and doing any other shopping that might need to be done.
Of course everyday brings up something new and exciting, for instance today when we opened our cooler we found that the remaining fudge we had bought in Texas had fallen in the water and was just begging to be resuscitated (eaten). A few other adventures were had trying to find delicate electrical components in the middle of the desert. We always start with Radio Shack but sometimes end up in more specialized stores. However, the most embarrassing part of our trip was when, do to traffic, the caravan beat this scout out of Chicago.
In the end it will always be the scouts job to ease the burden of the travel weary navigator (John).