On the road with Sunsetters
American Solar Challenge 2001
Return to Fargo
July 26-28
by Eric Bradley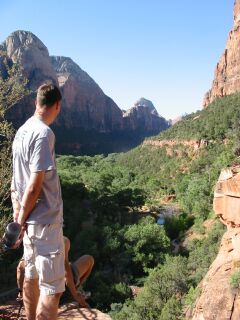 Zion National Park in Utah is a very beautiful geological treasure. Spending the night under the stars, eating steak from the grill, and hiking in the canyon provided much needed rest and relaxation for the team. There was still business to be done, though. As excitement brews for next year's car and team, a new constitution that better defines team roles was ratified today. Following its ratification, elections were held for all nine executive positions on the team. I am convinced that the bright, innovative team leaders elected will lead the team in new, exciting ways with continued success. The newly elected team leaders can be found here.

The Canyons of Zion

We are now proceeding with the 27-hour trip home, and will update this page if anything eventful happens. Not anticipating anything exciting, I would like to close this trip and update thanking everyone for following us on our journey. I hope the web updates were informative and entertaining. Thank you for your support this year, and I hope you will continue to support the NDSU Sunsetters in year's to come. This is Eric Bradley, former Sunsetters' President, signing off.