On the road with Sunsetters
American Solar Challenge 2001
End of Arizona into California
Monday, July 23
by Tim Barth and Eric Bradley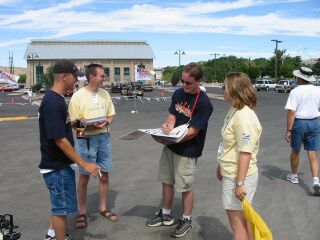 Destination: California. Our last checkpoint before the end of this stage lies in Kingman, AZ. After 2.5 hours of good morning charging, we set out to make the 60 miles to Kingman. With good sunlight we rolled in at 10:22 as the 17th team out of 30 teams. Immediately following the 30-minute media stop and a tire change due to a slow leak, we were on our way along the 222-mile desert stretch to the end of the stage in Barstow, CA.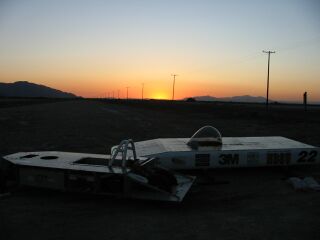 Desert driving was hot for the solar car driver, but cool and unexciting for the rest of us riding in the support vehicles. Excitement came when we ran across a terribly rough California railroad crossing which we had to coordinate a seven-man effort to push across. Towards the end of the day, the battery pack was running low, so before we proceeded on I-40, we stopped to charge for half an hour at a truck stop which happened to be across from a Dairy Queen. Needless to say, everyone took a break from the 100 degree desert heat with a DQ treat. We ended the day about 25 miles out of Barstow and charged in a dried up lake bed. We will be at the end of the stage before 9:00 am tomorrow and be able to get in a full day of charging before the final day of raycing on Wednesday.