On the road with Sunsetters
American Solar Challenge 2001
Flagstaff, AZ en route to Kingman, AZ
Sunday, July 22
by Tim Barth, Jim Karg, and Eric Bradley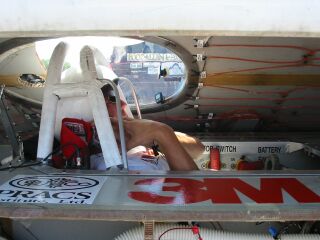 We left our hotel 40 miles east of Holbrook, AZ this morning at 8:40 MST in sunny skies with 96 volts (about 60% capacity). We quickly drove into partly cloudy skies and started to drain the pack. After a short downhill, we climbed into the Flagstaff, AZ checkpoint by 1:30, covering a distance of 150 miles. After the 30 minute required stop, 30 minutes of charging, and one worn tire changed by Crew Chief, Paul Buchanan, we left Flagstaff en route to Kingman, AZ.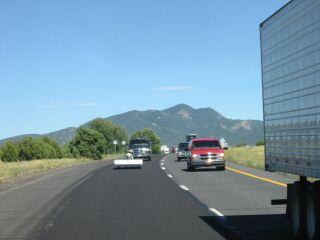 The remainder of the day would be largely downhill including a 6% downhill grade coming out of the Rocky Mountains. When we hit the steep grade, we maintained speeds of 50 to 55 MPH making a continuous 20 amps using regenerative braking. About 100 miles out of Flagstaff, our scout vehicle found a hotel essentially in the middle of nowhere; it became our goal to make this destination for the evening. After a lot of climbing and descending we approached the last hill with a nearly empty battery pack. With a few "I think I can"s, our car cruised over the last hill and into the Cavern Inn parking lot.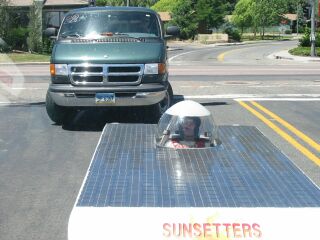 The day overall was immensly successful having traveled 250 miles in only 9 hours of raycing. We are sitting in a great position to pull into the last staged point, Barstow, CA well before the checkpoint closes at 4:30 on July 24th. Having tackled the mountains, our last remaining challenge is to get through the hot desert before and after Kingman and then cruise into Barstow.