On the road with Sunsetters
American Solar Challenge 2001
Santa Rosa, NM en route to Flagstaff, AZ
Saturday, July 21
by Tim Barth, Jim Karg, and Eric Bradley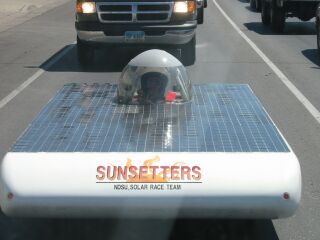 After yesterday's web update we had an interesting encounter in Santa Rosa, NM. The locals told us that weather in the area had the propensity to change without notice, which we quickly experienced. While we were charging in the evening hours, a very ominous-looking rain cloud formed in the southwest. Fearing hail, we immediately loaded the car into the trailer just in time for a large downpour. Unfortunately, we were so worried about the car, that our tents were forgotten and the open windows filled with water. But we managed just fine....
We arrived in Albuquerque at 9:30 am today, and received very good sunlight during the required 2.5 hour media stop. The route progressed largely uphill on I-40. We made good time and were into the Gallup, NM checkpoint by 4:00. We left after the required 30 minutes, but forgot to fill gas in our support vehicles. So after an embarassing 10 minute stop to fill gas, we resumed course and arrived at the only hotel within 40 miles each way. Overall, the day was very successful with zero breakdowns and an average speed of around 35 MPH.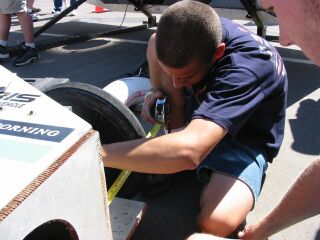 It would not be fair to conclude this update without mentioning a most selfless, sportsmanlike act done by our neighbors to the north. In football and most other sports, the University of North Dakota is a bitter rival, but in solar raycing, they have become a great friend. UND was about 20 miles ahead of us just west of the Arizona state line, when they had a nasty accident with a cattle grate that ripped apart their front suspension and took them out of the rayce. After such a devastating incident, one would not expect them to be worried about others' well-being. Not only did they call to warn us about the grate, they also kept flaggers there to explicitily block the hole in the grate and steer us around it. But their generousity did not stop there. Since they would no longer be raycing, they offered us any equipment that we would need for the remainder of our journey. These selfless acts will not go forgotten as UND set the rivalry aside to help us out. In the realm of solar car raycing, at least, NDSU and UND have found that teamwork and cooperation are better than intense rivalry and disdain. Our hats off to the UND solar car team!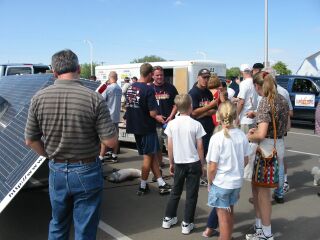 Onlookers at the Albuquerque media stop