On the road with Sunsetters
American Solar Challenge 2001
On The Way to Amarillo, TX
Thursday, July 19
by Jim Karg and Eric Bradley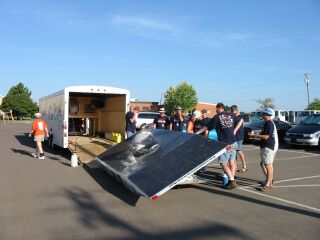 After a late night of minor repairs, we left Oklahoma City in trailer at 6:00 am. We arrived on-time at the Sayer checkpoint at 8:30, and were driving sun-powered before 9:00. Today's goal is to make Amarillo, TX before 6:00 pm. By 1:00, the trip has been rather uneventful.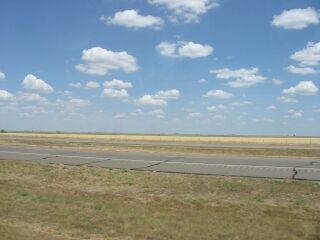 Other than two flat tires, and some dangerous Texas on- and off-ramps, we have progressed 120 miles to our destination seeing only 3 other solar car caravans. Including the University of Minnesota. The team finished a strong run arriving at Amarillo, TX around 3:30 pm marking the team's second complete race segment without trailering.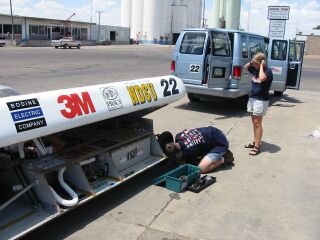 Once again, we had a chance to dodge semis and crazed commuters on our way to the checkpoint. The team is settling into a groove and after making a few adjustments to the car have found a competitive pace at which to run the car without draining the batteries excessively. We are hoping to make to the Tucamucari checkpoint before the deadline at 3:30pm tomorrow. Tonight we are bedding down at a truck stop just west of Amarillo and will be enjoying a feast of shish kabob.
NOTE: For additional pictures please visit www.ekarg.com