On the road with Sunsetters
American Solar Challenge 2001
Rolla, MO to Neosho, MO
Tuesday, July 17
by Tim Barth and Eric Bradley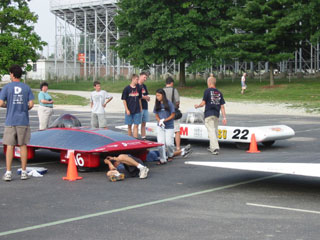 Today was a very nerve-racking day in traffic for NDSU Sunsetters. Everything was going fine as we moved down the road until about two hours into the trip. In the town of Lebanon, MO, an oblivious Suburban driver blatantly cut in front of our solar car forcing Jason Gates, the driver, to swerve into oncoming traffic to avoid an accident. Jason then made a quick swerve back to the right to narrowly miss hitting an oncoming car. Thankfully, due to the excellent handling of the car and quick reactions of our driver, we avoided a potentially rayce-ending accident.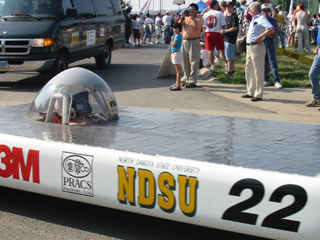 Shortly after our hearts had returned to a normal pace and the adrenaline had left our systems another traffic situation developed, but this time it involved other solar cars. In separate incidents, each of the Stanford cars communicated their desires for a pass. It was our desire to accommodate their pass, but they were obstinate in demanding an immediate pull-over. They even resorted to the drastic means of sending their lead vehicle ahead to brake in front of our lead vehicle in an attempt to slow down the entire caravan. Upon arrival at the checkpoint in Neosho, we filed an incident report with ASC Headquarters.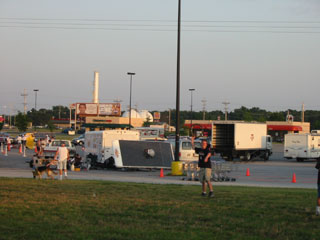 After the few run-ins with traffic, we ended up cruising until shortly after 12 when we stopped to charge our thirsty battery packs. After 3 hours of charging, we trailered into the Neosho checkpoint 3 minutes before it closed. Excellent timing. Missing a checkpoint is generally a good thing to avoid because a team is disqualified after missing 3 consecutively. We set up the array stand in the Wal-Mart parking lot, charged until the 9 pm battery impound, and will spend the night in the parking lot.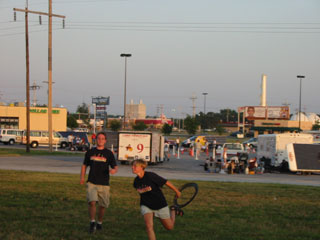 NOTE: For additional pictures please visit www.ekarg.com