On the road with Sunsetters
American Solar Challenge 2001
Into Barstow, CA
Tuesday, July 24
by Tim Barth and Eric Bradley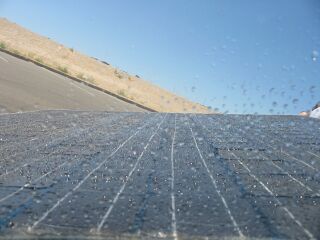 We spent the night on the gym floor at Barstow College and drove back to our stopping point 30 miles from Barstow for morning charging for our still thirsty batteries. Before we left at exactly 7:45, we turned up the air gap in the motor to see what kind of high end speed gain we would get for what kind of power draw. We then left without abandon since we would have most of the day to recharge the batteries. It turns out that our experiment with the air gap was a little too ambitious because it burned up a lot of our pack. It used up so much that even after we reverted to the old setting, Brian Freeman and Eric Bradley had to push the exhausted car across the parking lot to the stage finish line at 8:51. We were the fourth of nine stock class teams to cross the Barstow finish line.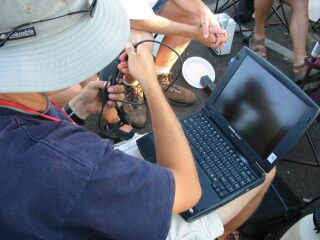 Other activities for the day included servicing and washing the chase van, lead van, and truck and trailer which all had put on 4000 miles since Fargo. While the vehicles were being serviced, tomorrow's navigator, solar car driver, and support vehicle drivers scouted out the last 90 miles into Claremont and discovered a very challenging route with large hills, sharp curves, and around 40 traffic lights. Our pack will be completely recharged by this evening, so we will be able to hit it hard tomorrow into Claremont.