On the road with Sunsetters
American Solar Challenge 2001
The Green Flag Drops in Chicago
Sunday, July 15
by Tim Barth and Eric Bradley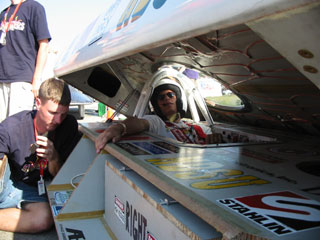 Rayce Day. Excitement and eager anticipation are in the air. Anticipating the 9:00 am start, we arrived at the museum at 6. All the cars lined up on the museum's front steps for a photo at 7:30. Immediately following the photo, solar cars and support vehicles were lined up in starting order to await the start. While we were eagerly waiting to go, parents and Chicago-area alumni enjoyed a social at the museum entrance graciously hosted by the NDSU Alumni Foundation.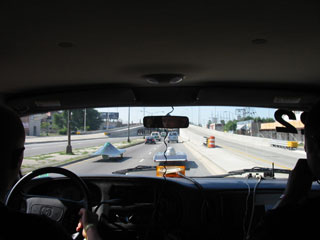 Having placed 14th overall out of 30 teams at qualifiers, we were slated for a 9:13 departure. When the green flag dropped, Prairie Fire headed down the museum driveway to meet up with the lead and chase vehicle. After two nail-biting hours of weaving thru Chicago traffic, we had made it to open country roads where we could "put it down" to make up for city stop-and-go driving. For our first day of raycing we fared slightly less than perfect stopping for one flat tire, two driver changes, a couple miscellaneous pit stops, and two wrong turns. This seemed to be somewhat of an average day based on similar experiences from other teams. Our strategic goal for the day was to get to the checkpoint in Springfield, IL, and as it turns out, this is were we are currently spending the night on the Lincoln Land Community College gymnasium floor.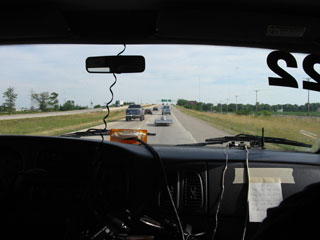 NOTE: For additional pictures please visit www.ekarg.com