On the road with Sunsetters
American Solar Challenge 2001
Bodine Electric and WGN Chicago
Friday, July 13
by Tim Barth and Eric Bradley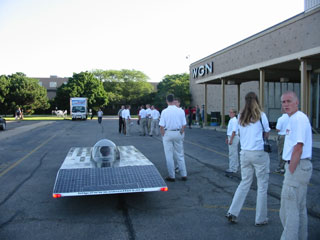 The 5:15 wake-up call came way too early for the team this morning, but it was only a foretaste of the multitude of early mornings to come. The reason for the early awakening was because of an appointment with two Chicago businesses: Bodine Electric and WGN. As one of our platinum sponsors and a neighbor to WGN, Bodine Electric had set up airtime for our solar car on the WGN morning news. By pure coincidence another solar car team, Rose Hulman, had also scheduled airtime with WGN for this morning. NDSU's solar car and team received a 45-second segment, which was aired live in the Chicago area and slightly delayed on the nation-wide cable network.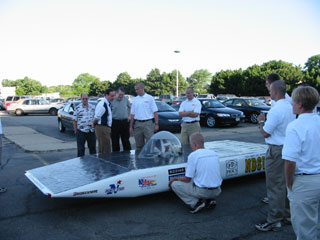 Following the interview, we had the car on display in front of Bodine Electric's building for a few hours while we were given a tour of their manufacturing and engineering facility. It was wonderful to see the development process behind the e-Torq motor that was donated to us. A big thanks goes out to Bodine who provided a tour, t-shirts, and lunch to our team! Just another way in which our sponsors make this project a success.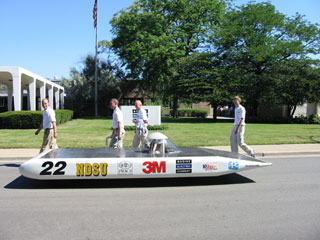 This evening entailed another trip to Kalamazoo for a banquet at Western Michigan University and an all-team meeting regarding the rayce. After a good meal, relatively brief meeting, and the drive back to Chicago, we were ready to turn in for a good night's sleep after a long day.